Anne's note: This piece was co-written with my lovely friend Jess, who you may remember from My Friend And I Live-Texted After. Here Are Those Texts. You can find her on Twitter here.)
In an ongoing global crisis, it's easy to feel powerless as the world as we know it seems to be collapsing around us. Unfortunately, we're not equipped to handle the majority of those issues. But if you're fortunate enough to have a reliable internet connection, you ARE equipped to stream television! Here are a wealth of options, for each of your quarantine moods:
When you're angry at the government for all the things
Anne's Pick: Veep
"Veep is a relatively simple premise: what if the most clueless people you've come across in YOUR career were running the government? But unlike the real world, Veep oftentimes makes these inept narcissists face negative consequences of their inept narcissism. While it definitely takes several episodes to adjust to, once you settle into a Veep binge there's a certain charm in watching terrible people lose everything they care about. If you don't have HBO, you can still stream the first two seasons on Amazon Prime to see if it's your cup of tea." (Stream on HBO or Amazon)
Jess's Pick: The X-Files
"Mulder and Scully have known about the government's corruption since 1993, and it's time we revisit some of their early exploits into the paranormal. While the show goes off the rails in its later years (skip the reboot entirely), the legendary chemistry between the two leads and the early construction of the main mystery make it hold up as a classic. Remember, the truth is out there." (Stream on Hulu)
When you're missing your friends 
Anne's Pick: Parks and Recreation



"Parks and Recreation remains one of my favorite sitcoms of all time largely because the characters are so different, yet each is charming in their own way. Pawnee, Indiana is a world where people can have different political beliefs, backgrounds, and interests yet still love each other, making it a show you can cuddle up with like a warm blanket. While I'm sure many of you have seen it before, Parks and Rec still holds up to re-watching and if you haven't seen it before, there's no time like the present." (Stream on Hulu or Amazon)
Jess's Pick: My Mad Fat Diary

"This 2013 British gem focuses on Rae Earl, a fat mentally ill teenager who struggles with a new friend group and her overbearing mother after a suicide attempt. Sharon Rooney is heartbreaking and hilarious as Rae, and the series manages to treat mental illness with a poignance rarely found on American television. Bonus points for the stellar ensemble cast, including a pre Killing Eve Jodie Comer." (Stream on Hulu)
When you're craving food that wasn't frozen or from a box
Anne's Pick: MasterChef Junior

"As much as I love Ramsay's other shows, the softer side he displays here is the most comforting in times of crisis. There's an infectious warmth and admiration between the judges and the different contestants. While adult reality contestants are notoriously "not here to make friends!" the kids of this show are always so excited to be with other kids who share their passion for cooking and learn from the celebrity judges. Oh, and their skills in the kitchen will FLOOR you. You'll see exquisite, creative dishes that remind you how much fun cooking/food can be." (Stream on Hulu)
Jess's Pick: Nailed It


"So, this is admittedly already one of Netflix's biggest hits. However, it still hits the spot for me, as a person who possesses no culinary ability.  But it gives me hope that I'm not quite as inept as the contestants featured on here. (This is untrue, but it is a delusion I need to hold on to for the time being.) The duo of Jacques Torres and Nicole Byer are always a good method to brightening your day." (Stream on Netflix)
*New episodes of Nailed It come to Netflix on Wednesday, April 1!
When you really just need an antihero who tells it like it is
Anne's Pick: Unreal

"If you're like me, you'd probably feel bad if you spent too much of your quaran-streaming time on trashy reality shows, yet there's still a part of you that would love to watch trashy reality shows. The perfect compromise? Unreal. Created by a former producer on The Bachelor, this one centers around a ruthless Executive Producer named Quinn and her protege, Rachel. The performances are stellar, and the show serves as an expose for how producers manufacture narratives like puppet masters pulling the strings. And yet, you still get to pick favorite contestants to root for and wonder who's getting eliminated each episode." (Stream it on Hulu)

Jess's pick: Fleabag



"This was the critical darling of last year's television scene, but it's absolutely still worth watching if you missed out on the initial craze. Written by and starring the brilliant Phoebe Waller-Bridge, the series focuses on the eponymous Fleabag, a sex addicted young woman plagued by grief. While the series is technically a comedy, its gutting dramatic moments stay with you for long after the 12 half hour episodes are over."(Stream it on Amazon)
When you need to be reminded that good, pure things exist in this world 
Anne's Pick: Encore!



"In this Disney+ Original, adults reunite to re-stage the musicals they performed in high school. It's great to see a show where the performing arts are portrayed as a worthy end in and of themselves even when they're not a pathway to fame, wealth, and glory. In this show, being bad at singing isn't a reason not to sing. Being bad at dancing isn't a reason not to dance. Encore! reminds us that it's okay to pursue things even if personal enjoyment is our only reason, and that's a message we don't get often enough." (Stream it on Disney+)
*Jess, Anne, and our other super cool friend Milo have done a podcast about Encore! where we go more in-depth about it. Check it out here.
Jess's Pick: The Great British Bake-Off* 

"This show is a straight serotonin blast. Watch a dozen bakers take on a variety of challenges in a tent in the English countryside and deal with the discerning eyes of Paul Hollywood and Mary Berry, Come for the food porn, stay for the abundance of gingham and the unexpected friendships. (Sidenote: while the later seasons are still entertaining, the first six seasons from the BBC era are infinitely superior.)" (Stream on Netflix or PBS).
*If you're in the United States, this show will most likely be labeled The Great British Baking Show because of stupid trademark stuff. It's the same thing. 
When you need a show to binge watch but there's only one season so you get mad when it's over 
Anne's Pick: Glow Up



"Glow Up is essentially Project Runway but for makeup artists. Over its eight episodes, the contestants have to do everything from fashion editorials to red carpet looks to drag makeup. The judges are both great personalities and by the end I was living for Dom's sweaters and Val's over-the-top responses and "Ding Dongs!" to her favorite looks. If you've ever binged Project Runway or America's Next Top Model but haven't discovered Glow Up yet, what are you waiting for?" (Stream it on Netflix)
Jess's Pick: High School Musical: The Musical – The Series 


"One of Disney+'s first unexpected and underrated delights. Unlike the original trilogy which is strictly appealing on a cringy nostalgia factor, the updated storylines and the talented cast makes this an easy binge. It's also family-friendly, so if you're quarantined with some younger family members, it's a far more palatable option than most Disney shows. (The new original songs are also better than they have any right to be.)" (Stream it on Disney+)
When you need to watch other people be terrible so you feel better about yourself 
Anne's Pick: Schitt's Creek



"Schitt's Creek is about a wealthy family who goes bankrupt and has to move to a tiny town of not-so-wealthy people. What's great about the Roses is that they're not really mean to the rest of the town, they're simply too ignorant to know how their words and actions will come off to people of a lower economic class. And unlike some other terrible people shows, the Roses actually learn and grow and get better as the series progresses. That makes them a family we can simultaneously love and root for AND a family we can look at and say 'sheesh, at least I'm not THAT bad!'" (Stream on Netflix of IMDb TV)

Jess's Pick: Succession



"In our current political climate, there is never a bad time to be reminded that billionaires are bad people. Succession follows the Roy family after patriarch Logan's failing health sparks a power struggle among the Roy children.The show does an excellent job of illuminating how Logan's emotional abuse and pursuit of power have corrupted his family. However, it also shows how his children have chosen to carry on his legacy, and have inherited their father's appetite for class warfare and destruction.  With only two seasons aired so far, it's an easy catch up before season three airs later this year." (Stream on HBO)

When you just need to remember a simpler time when you had no responsibilities 
Anne's Pick: Drake & Josh 


"Sometimes you just need a world where the problems are simple, and can easily be solved within a half hour. A lot of shows fit that bill, but I love how Drake & Josh oftentimes features absurd problems unlike anything I will ever face in my real life. (Remember that time they accidentally sold an orangutan to someone who eats orangutans?) And yet somehow they STILL always work it out within a half hour. It's hard to find the same level of off-the-wall hijinks in sitcoms for adults (except maybe adult animation), yet Drake and Josh also have enough comedic chemistry and grounded emotional scenes to make the show palatable for more mature audiences as well."(Stream it on Hulu)
Jess's Pick: Boy Meets World

"A long established nostalgia classic, the majority of Boy Meets World still holds up as a sitcom today. The chemistry of the cast is enduring, and the pitch perfect series finale still brings a tear to the eye. In times like these, it's important to remember Mr. Feeney's final bit of advice to his students: 'Dream, try, and do good'." (Stream it on Disney+)
When you need to watch a slightly more benign clusterfuck 
Anne's Pick: The Secret Life of the American Teenager



"Of all my guilty pleasures Secret Life of the American Teenager is perhaps both the guiltiest and more pleasure-inducing. Cringy dialog? Check! Subpar acting? Check! Characters that make dumb choices for no reason other than to elevate the story to new levels of clusterfuck? CHECK. Not only do you have teenagers breaking up and hooking up with each other, you also get their parents sitting in a metaphorical corner analyzing it all and occasionally inserting themselves into the drama." (Stream it on Hulu)
Jess's Pick: McMillions
"If you're looking for a true crime fix, but aren't quite ready to handle the intensity found in the majority of the genre, McMillions is the perfect option. Focusing on the McDonalds Monopoly fixing scam of the 90s, this docuseries uses reenactments and interviews to track the FBI's investigation of the case. Along the way, participants in the scheme are also interviewed, and it provides a somewhat sobering look at the effects that it has had on their lives." (Stream on HBO)
When you want to watch a romantic comedy but also cry
Anne's Pick: Crazy Ex-Girlfriend
"Crazy Ex-Girlfriend is a romcom musical. It's cheesy and entertaining the way all your favorite romcom movies are, but it also takes full advantage of television's ability to build more complex characters and narratives. Crazy Ex-Girlfriend is aware of its genre's tropes and makes clever choices about how to subvert them. The musical numbers help keep the show light and bubbly without over-trivializing the heavier topics this show addresses in later episodes. Fair warning, season 3 does go to some darker places you might not have anticipated based on the first two, but the show is built on firm enough ground to handle it." (Stream it on Netflix)
Jess's Pick: Jane the Virgin 

"One of the CW's shining romantic gems, Jane the Virgin follows the accidental insemination of Jane, which sets off a truly incredible chain of events, With a bevy of telenovela inspired twists, one of television's most heart-wrenching love triangles, and a spectacular ensemble, it's a joy to watch. And there are 100 episodes, so it provides a longer commitment if that's what you need during this time." (Stream it on Netflix)
When you're moody but also artistic
Anne's Pick: Big Little Lies


"Big Little Lies somehow manages to scratch a guilty pleasure itch with the elevated storytelling and cinematography of a good indie drama. A fair amount of this show is just watching moms bicker and be passive aggressive to each other  while marveling at the real estate of rich people. But yet the show still addresses issues like rape and domestic violence with the necessary sensitivity. All I need now is a spin-off where Laura Dern plans children's birthday parties." (Stream it on HBO)
Jess's Pick: Sharp Objects



"This Southern Gothic drama never got quite as much attention as it deserved, but it's a stunning miniseries with dynamite performances by Amy Adams and Patricia Clarkson. Jean Marc Vallee directs this slow build mystery of a small town with a history of young dead girls, and how the past always comes back to haunt us, no matter how far we run away from it. It's a miniseries that ends on the perfect note: leaving you wishing for more while understanding that any additions would tarnish the perfection of the original." (stream it on HBO)
When you need something so bad, it's good 
Anne's Pick: Riverdale


"By this point, Riverdale is preceded by its own reputation. But damn, is it a perfect trainwreck of a show. It's a murder mystery. It's teenagers doing teenager stuff. It's musical numbers that don't really make sense. It's Cole Sprouse monolog-ing. And I didn't even make it past Season 2, I'm sure it goes above and beyond any of the shenanigans I've seen. It's the kind of show where you're always wondering what crazy thing they'll think of next, and that's enough to power you through the various wtf moments this show throws at you. At some point, you'll realize the appeal was all the wtf moments along the way." (Stream it on Netflix)


Jess's Pick: Four Weddings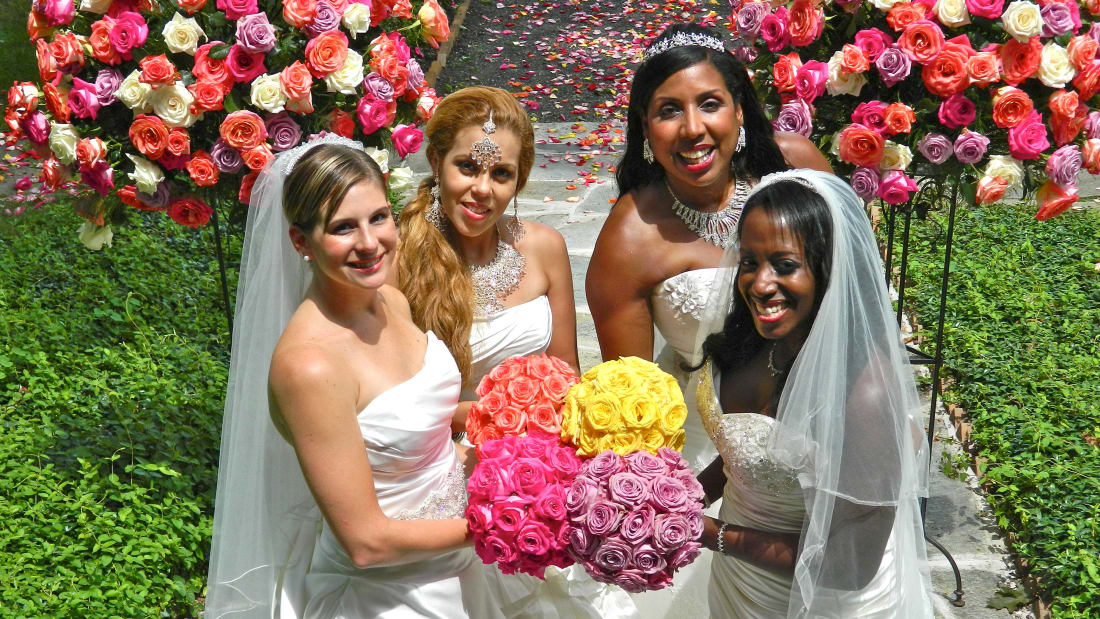 "The wedding industrial complex has been examined in multiple television shows, but none more perfectly that TLC's Four Weddings. Four strangers attend each other's weddings, and offer scores on the dress, venue, and food. The sheer amount of passive aggressive comments made in the confessional each episode is a delight, and by the end, you don't really care which bride wins the honeymoon as long as at least one of them slips in a supremely bitchy comment. Truly, this is a gift in our time of need." (Stream it on Hulu)
What are you all quaran-streaming? Let us know in the comments!